LATEST COLUMN LIFTS WITH ALL COLUMN CONTROL AE4030WX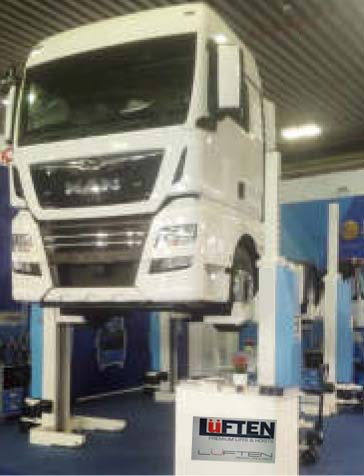 AUTOEQUIP AUSTRALIA AETL750MLW WIRELESS MOBILE COLUMN TRUCK LIFT Can be used individually, paired, in 4's, 6's and 8 column conbinations. CE and approved for use in Australia to Euro standards. Price is per column lift, lifts are usually purchased in 4 or 6 Price is per column lift, lifts are usually purchased in 4 or 6 combinations.


Features
■ Battery & charger
Save time for plug-in/off
Operate the lifts anytime & anywhere
No tripping hazard to operators
■ LCD screen display
Real-time lifting height
Continuously monitored battery condition
Mode type
Multi languages option
Troubleshooting for any trouble
■ Safety
Automatic stop when highest point is reached
Throttle valve & mechanical lock
Automatic stop when either column has 50 mm height difference
■ Advanced synchronization system
The set can rise up& down smoothly even if the load is unevenly loaded to each column
■ Each column has the operation & emergency buttons for easy access
■ IP 54 water-proof
Specification(Model:AETL750MLW)
· Lifting capacity7500 kgs per column
· Max. Lifting height1700mm
· Time for lifting or lowering150 sec.
· Voltage24v DC
· Motor power2.2Kw per column
· Column dimension1300(L)*1100(W)*2300(H) mm
· Fork length380mm
· Fork width280~580mm
· Weight680Kgs per column
· Max. hydraulic pressure20Mpa
· Battery capacity20 up&downs (Full charge)
· Power supply for charger110V/220

Additional Features:

Besides the features as shown on old model AEML4030W, new ML4030WX has following new features:
1. 9'' large touch color screen -- facilitating convenient operation.
2. Lift management function -- facilitating direct workorder management on the lift.
3. Remote monitor function -- monitoring use frequency as well as lifting time & weight each time, so as to give maintenance tips automatically, so that users could carry out maintenance services on the lift timely.
4. Self-diagnosis function -- when there is fault on the lift, the colour screen will show the corresponding error code and concrete steps guiding users to fix the errors.
5. Connected to internet via WIFI -- the lifts can be connected to internet via WIFI, felicitating users to log on the internet and search for needed information directly.

Company Profile:

Founded in 1992, MIT Group has been focusing on automobile after-sales markets over the years, and has grown to be the leader in the industry, supplying state-of-the-art products and services to our esteemed clients all over the world. The Group's brands include MAXIMA, Bantam, Welion, ARS, LUFTEN, and 999.
FINANCE AVAILABLE AT VERY COMPETITIVE RATES